FRIENDS is still ranked as one of the most-watched television shows to this very day and there's no surprise why. Fans can never get enough of the hit-comedy TV show,
For everyone who thinks they know everything about "FRIENDS" prepare to be lawyered.
1. "I'll Be There For You" May not Have Been
The Friends opening theme tune might just be the most iconic of television history. But could you imagine any other song introducing us to the show every week? Nope! Shiny Happy People by REM was the first song in mind for the opening credits, but the show's writers eventually settled on The Rembrandts' I'll Be There For You.
2. The Cast's Age When Friends Started
We all remember Rachel and the rest of the gang to be in their mid-twenties during the early days of the show, but what about their actor counterparts? In real life, Jennifer Aniston and Matthew Perry were both 25 on the first episode of the show, Matt Leblanc was 26, David Schwimmer was 27, Courtney Cox was 30, and Lisa Kudrow was 31. Time flies!
3. Friends was Shot in Front of Live Audience
Here's some behind the scenes info you probably never expected. Indeed, Friends was filmed in front of a live audience of 300 fans. Even the laughs heard in the background were real, although later slightly modified. The only scenes that weren't filmed in front of an audience were certain cliff-hangers in order to avoid spoilers for the fans. Bonus fact? Filming an average episode of Friends took nearly 5 hours!
4. Matthew Battled Drug Addiction
You might have noticed poor Matthew Perry's weight fluctuate throughout the seasons of Friends. The legendary actor went to rehab for addiction to prescription drugs and alcohol in 1997 and 2001. He admitted, "I was never high at work. I was painfully hungover. Then eventually things got so bad I couldn't hide it and everybody knew."
5. Ellen DeGeneres Almost Played Phoebe
Could you imagine anyone else but Lisa Kudrow playing our favorite quirky Phoebe? Well, none other than Ellen DeGeneres turned down the role! With Ellen's sense of humor, it isn't so difficult to imagine she would have been great as Phoebe, but we're still so glad Lisa Kudrow got the part!
6. The Cast were Paid almost $1 Million per Episode
Wondering how much money the Friends cast made? Following the international fame of the show, the gang's actors have all earned an incredible amount of money. By the last episode of the final season, the lead cast was making around $1 million per episode, making the lead actresses Jennifer Aniston, Lisa Kudrow and Courteney Cox the highest-paid actresses of all time. The Friends cast still earn a lot of royalty money from the show each year, once again not surprising at all seeing as the series is highly enduring the test of time.
7. The Most-Watched Episode
Wanna know what the most-watched episode of Friends was? Believe it or not, it's not the premiere or finale. In fact, it was "The One After the Superbowl" from season 2 in 1996. It had a total of 52.9 million viewers!
8. A Hug for Luck
A heartwarming fact that will certainly make fans of the TV series love the main cast even more – before each episode, all six actors hugged for good luck! That's 236 hugs in total!
9. Ben Geller had a Secret Crush on Rachel?
Cole Sprouse, aka Ben Geller, stated in a New York Post interview in 2017 that he struggled to shoot anything in which he had to interact with Jennifer Aniston. Why? Because he had the greatest crush on her and could barely utter his lines without blushing when he was in her presence! That's pretty cute!
10. Marcel was Two Monkeys!
Ross' adorable monkey, Marcel was actually played by two different monkeys called Monkey and Katie. The duo also played in notorious films and shows afterward such as Bruce Almighty and 30 Rock. Another interesting trivia is that David Schwimmer preferred to shoot with Monkey as the latter was much calmer and easy to film with than Katie.
11. The Orange Sofa was Found in Warner Bros Studios
No one will ever forget that signature orange sofa. The gang's couch that can be seen in Central Perk was actually taken from the basement of Warner Bros Studios. Back when it was probably a dusty old thing, who knew it would become so iconic in the future?
12. Jennifer Aniston almost didn't Play Rachel
No one could ever imagine any other actress playing the wonderful Rachel. In fact, it's difficult seeing Jennifer Aniston as anyone other than the famous fun diva from the show. Believe it or not, she almost missed the role of a lifetime because actress, Tea Leoni was originally cast as Rachel.
13. Gunther was Originally an Extra
The actor who played Central Perk manager, Gunther stated that back in 1990, he had a barista job in real life at The Bourgeois Pig in Hollywood whilst shooting the early seasons of the show. The only reason James Michael Tyler was cast on the show was that he was the only extra who could handle an espresso machine!
14. The Cast are Happily Married in Real Life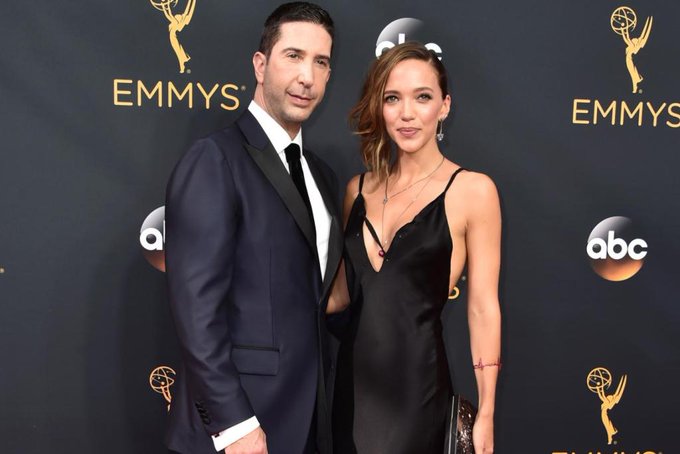 Monica famously married Chandler in season 7, but what about the actors' real-life spouses and partners? Well, Courtney Cox married David Arquette in 2001 but the famous couple divorced in 2013 while Matt Leblanc married the American model, Melissa McKnight in 2003 but split in 2006. David Schwimmer is married to British photographer and artist Zoe Buckman, while Lisa Kudrow has been married to French designer executive Michel Stern since 1995. Jennifer Aniston was famously married to Brad Pitt from 2000 to 2005, but when they divorced, she moved on to a few more famous men including Vince Vaughn and later Justin Theroux. Although she is now single. Ross, where ya at?
15. Perry and LeBlanc were almost Never Cast
Jon Favreau auditioned for Chandler Bing's part, which he obviously did not get. He eventually played Monica's millionaire boyfriend in season 3. Good! Because nobody could BE anymore funnier than Matthew Perry! What's more, Hank Azaria auditioned for the role of Joey twice but was eventually cast as David, Phoebe's love interest for five episodes of the first season who eventually goes to Minsk.
16. Each Member has Kissed One Another
There's a lot of love behind the scenes! All six members of the gang have exchanged a kiss throughout the ten seasons, with the exception of Monica and Phoebe. I mean, who's surprised? The cast filmed together for 10 whole years!
17. Friends was Almost called WHAT?
Can you imagine Friends being called anything else? It probably gives you nausea just thinking about it. Like many shows, Friends went through several titles before finding the one that matched best. It was initially called "Insomnia Cafe", before receiving the name of "Friends Like Us", and then "Six of One". Eventually, they simply settled on "Friends", which we couldn't be happier about 22 years down the line!
18. Ugly Naked Guy was Revealed in 2016
One thing we were kept in the dark from during the entire run of Friends was the identity of Ugly Naked Guy. The gang's mysterious neighbor throughout the series was unknown until 2016 when the Huffington Post announced after a fruitful investigation that his name was Jon Haugen. Damn, he deserves a star on the Hollywood Walk of Fame!
19. Monica & Joey were Supposed to Get Together
One of the writers of the show, Marta Kauffman stated that it was because of the audience's response to Monica and Chandler's relationship that they canceled out any notion of a Monica and Joey romance. Thankfully, Monica and Chandler were made end-game.
20. There were Originally only 4 Friends
The gang was initially supposed to include only four main characters, meanwhile, the characters of Phoebe and Chandler were going to be mere supportive roles. Fortunately for us all and for the characters' actors, it was decided that the two would be an essential part of the group.
21. Lisa Kudrow was really Pregnant
Here's a fact that will amaze you! Most shows usually hide the actor's pregnant belly when they're expecting but not in the cast of Friends. Phoebe carrying triplets was entirely written because Lisa Kudrow was expecting in real life!
Let us know in the comments which facts surprised you most. Or did you already know them all?
Sources –  WTF Detective | 9Gag